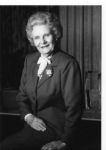 Born in Fonda, Iowa, Ruth Stafford Peale graduated from Syracuse University. Over the years she successfully combined several careers, maintained a strong commitment to religious activities in America, and dedicated herself to building a happy, secure family life for herself, her husband - Norman, their three children and eight grandchildren.


She served as Chairman of the Board and publisher of Guideposts Magazine. She was a member of the Board of Directors of the American Bible Society, Interchurch Center, The Institutes of Religion and Health, and the Layman's National Bible Committee.


An author in her own right Mrs. Peale wrote numerous articles appearing in Readers Digest, Woman's Day and the Saturday Evening Post. She authored two books, Secrets of Staying in Love and A Lifetime of Positive Thinking.


Among other distinctions, Mrs. Peale was the first woman president of The National Board of North American Missions of the Reformed Church in America, and the first woman chairman of the Planning and Program Committee of the National Council of Churches. She served ten years as president of the Women's Board of Domestic Missions of the Reformed Church in America; served as vice president of the Council of Churches in New York City and the National Council of Churches. She was a trustee of Hope College in Michigan, Champlain College in Vermont and Syracuse University in New York. Mrs. Peale died at home in Pawling on February 6, 2008, she was 101 years old.