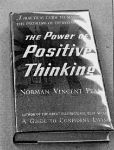 In 1952 Dr. Peale's fourth book, The Power of Positive Thinking was published, in which according to Christianity Today magazine, "he has perfected his simplification of the Gospel message."


The Power of Positive Thinking was an unprecedented phenomenon in the publishing industry. Not only did it out sell every other non-fiction book (aside from the Bible), but it's author was flooded with letters from grateful readers whose lives had been transformed by the book.


For years after it's publication Dr. Peale would receive up to 2,000 letters a month. Positive thinking permeated our culture and became a part of the American vocabulary.


Dr. Peale wrote of the book, "The first working title of the book was 'The Power of Faith', but I wanted the book to go out to a whole world of people beyond the walls of the church, so the title was changed to 'The Power of Positive Thinking'. I am truly grateful that God has blessed that title, making it part of the language, but even more, by letting it reach millions of people to help them live more constructive, more victorious lives."


"At the time of writing the book I had, of course no idea that it would become one of the best selling books in American history. My only concern then, as now, is that the book will continue to reach the defeated, the failing, the self-doubtful, the timorous and fearful, with the assurance that positive thinking or the life of faith, is the true secret of living. Or as the New Testament says it in Philippians 4:13, 'I can do all things through Christ who strengthens me.'"